MANAGING SECONDARY TRAUMA AS LEGAL PRACTITIONERS
Tuesday, 6 April 2021, 1-2:00pm
The Victorian Bar's Health and Wellbeing Committee is hosting a webinar – Managing Secondary Trauma as Legal Practitioners on Tuesday, 6 April 2021, 1-2:00pm.
Barristers and legal practitioners, especially those practising in the Family Court of Australia, or work in with children, and in coronial and criminal law, can be involved in cases that include difficult and traumatic incidents. This can take a toll on practitioners' #wellbeing.
Dr Dawn D'Amico, is a leading authority on secondary trauma and the author of 'Trauma and Well-being Among Legal Professionals', soon to be released.
In this webinar, Dawn will explain what secondary trauma is, how to spot the signs of secondary trauma in oneself and others, and lead a discussion about ways that barristers and legal practitioners can manage secondary trauma and where to find help.
The 6th Annual CLA & LAMDA Virtual Mental Health Conference
Date: Saturday, February 20, 2021
11:55 am to 12:40 pm: Trauma Informed Lawyering in Mental Health Litigation
Moderator: Cassandra DeMelo, Vice President, Criminal Lawyers' Association
Psychotherapist: Dawn D'Amico
Lawyer: Helgi MakiVideos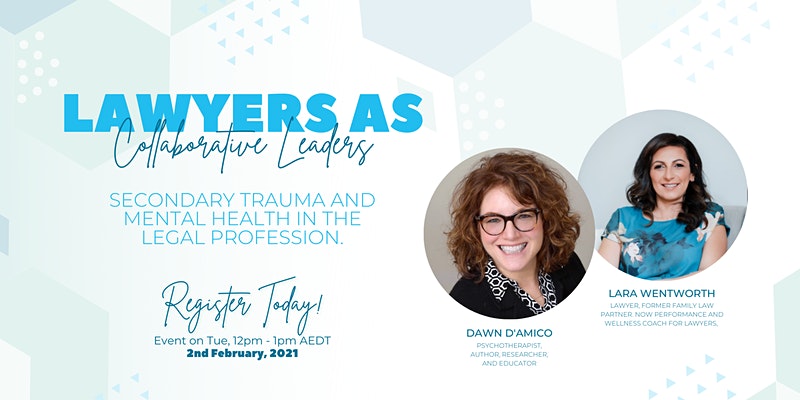 Lawyers as Collaborative Leaders – Secondary Trauma And Mental Health In The Legal Profession
Date: Tuesday February 2, 2021
To kick off our first LACL session in 2021, I'm super excited to be sharing with you Dawn D'Amico. In this session we will be discussing the very important topic of secondary trauma that as lawyers we experience far too often.
---
The Canadian Criminal Lawyers Association and Law and Mental Disorder Association's 6th Annual Convention.
– 2021
Interview with Judge Christopher Foley; Wisconsin, United States